En el mundo digital de los negocios es imprescindible utilizar buenos recursos gráficos, el día de hoy me inspire a compartir los Best Seller Business Icons de GraphicRiver.
Una recopilación de los mejores sets de iconos editables para poder ser usados en sus proyectos de negocios, veremos diferentes  estilos, creo que los favoritos son los de flat design. Contienen los iconos esenciales y necesarios para una buena comunicación visual e interactiva.
Siempre he dicho que los recursos gráficos son útiles para ser más funcionales en los proyectos, me refiero a tiempo y forma, diseñar todo un set con estilo propio lleva tiempo, solo para aquellos proyectos en los que se cuenta con el tiempo requerido, podremos diseñarlos desde cero, pero para aquellos en los cuales no tenemos mucho tiempo, lo mejor es utilizar recursos gráficos.
Son como 25 sets de iconos a muy buen precio desde la plataforma de GraphicRiver, los mejores diseñadores y la calidad que implementa la plataforma, les da la seguridad que los recursos serán óptimos para sus proyectos. Para más información solo dar clic sobre la imagen y los llevará al recurso.
Best Sellers Business Icons
SEO Icons by floringheorghe
SEO Services Icons by kh2838
Set of Flat Design Icons by PureSolution
Business Icons – Blue Series by introwiz1
176 Papercut Icons by sharpnose
Seo icons for web design «The SEO» by MikeKondrat
SEO Company Services Icon Set by MikeKondrat
Set of Flat Design SEO Services Icons by PureSolution
Business And Advertising Agency Icons by MaxVectors
120 Business Flat Icons by iconsoul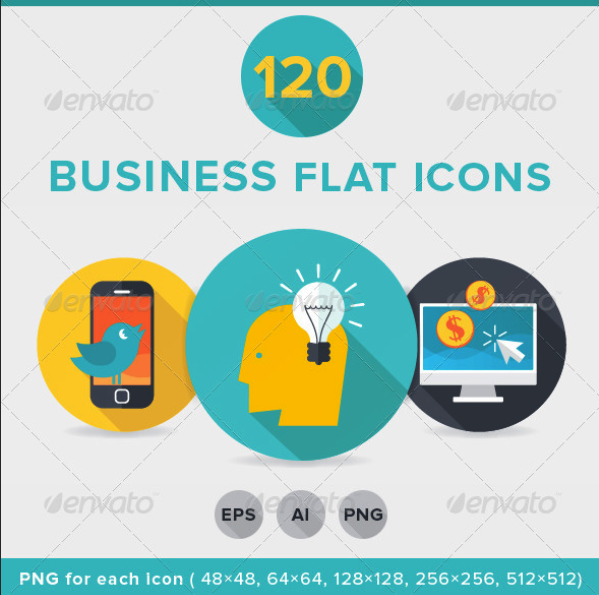 80 Black Business and Finance Icons by sharpnose
Business Icons – Colored Series by introwiz1
push pin by cristianalm
110 Hand-drawn Business and Office Icons by heloholo
Targo – Premium SEO Industry Icons by kh2838
Personal & Business Finance Icons by introwiz1
icon set n°9 – commerce theme – infinity series by neopicture
70 Food and Drink Icons by sharpnose
SEO & Development Icon Set by MikeKondrat
Set of Flat Design Concept Icons by PureSolution
Conceptual Flat Icons by Graphiqa
Function Freelance & Work Icons: 226 Icons by liammckay
Business Items Flat Icons Set by Bloomicon
Management and Human Resource Icons by introwiz1
Seo Mega Icons Pack by feeltheblue
Espero les haya gustado esta recopilación de iconos de negocios, por favor compartan y nos estamos leyendo hasta el próximo articulo.